Beauty Brands Achieving Phenomenal Growth
Beauty brands that are achieving international growth and success in 2023 are those with interesting marketing strategies, compelling products and those that understand what their customers' needs and requirements are across global markets. There are a number of brands that stand out in terms of their growth strategies, across retail and travel retail, so let's dive into what they are doing and how they are approaching this.
Without doubt, Rituals is a trailblazer, for the way in which they continue to expand their presence on the high street. Rituals is inspired by the wisdom of ancient traditions of Asian cultures – their products are luxurious, yet affordable. Launched in Amsterdam in 2000, to date, they have opened over 1 000 stores in 36 countries including Europe, the Middle East, and Asia.
The wellbeing house and leading travel retailer Dufry has partnered up with them over the past year with five new standalone airport stores in Spain. They jointly held an official launch event in January 2023 at Barcelona El Prat Airport where the biggest Rituals store is located. The first store of the five opened at Madrid Barajas Airport Terminal 4 last September. Designed in Rituals' signature retail concept, the Madrid location offers travellers the brand's extensive home and body range.
The brand also conducted a two-day pop up in London's Covent Garden in April this year, where it celebrated its best "Sakura" collection. It showcased the story behind Ritual's bestselling collection, as well as allowing customers to try a variety of products, win prizes and retrieve advice from the brand's ambassadors. Rituals has also hosted an immersive roadshow experience this July throughout certain locations in the UK, spreading the power of positivity where visitors have been able to immerse themselves in The Ritual of Karma collection. This collection is enriched with white tea and lotus flower and features a new and improved formulation with their new Hydra-Boost Complex.
Augustinus Bader is another interesting brand that is creating quite a buzz in the premium beauty arena. Founded by a world-renowned stem cell specialist and backed by decades of research, its admirers include the likes Kim Kardashian and Meghan Markle. They launched in travel retail with DFS in December 2021 and have since been expanding their existence in travel retail throughout 2023, opening their biggest store at the Hainan Tourism Duty Free Shopping Complex in Sanya with Hainan Investment Tourism Duty Free Co (HTDF) and Lagardère Travel Retail, as well as with two other major Hainan openings planned later this year.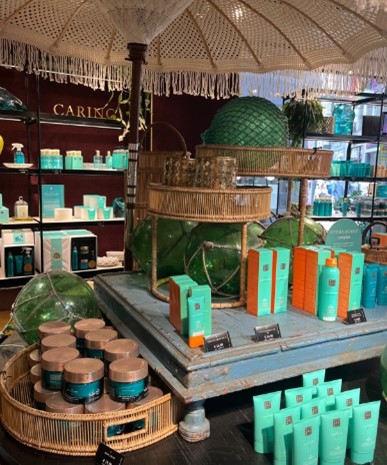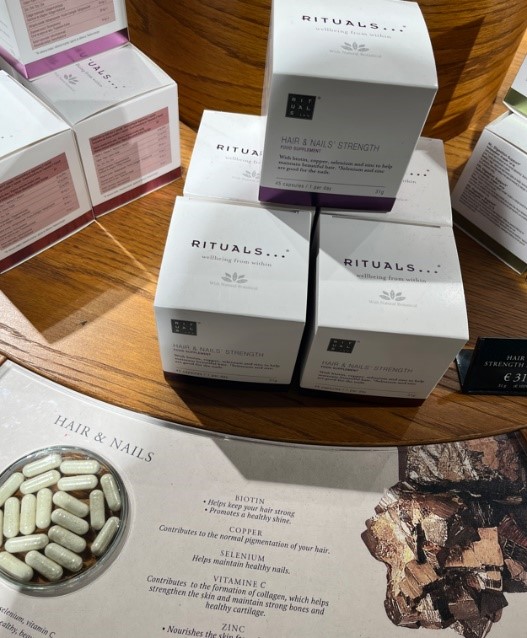 In Europe, they have launched across eight Spanish airports in partnership with Dufry, 11 German terminals in partnership with Gebr. Heinemann and key doors in France and Switzerland with Lagardère Travel Retail.
Following their launch at Heathrow Airport Terminal 5 with the Dufry group, they will be launching in Terminal 3 followed by another UK counter at Gatwick Airport North Terminal. Their plans include rolling out in the Canadian, Brazilian, and Mexican travel retail locations. Additionally, they are looking to introduce new products to their portfolio.
The Perfume Shop is evolving. They recently launched their biggest perfume bottle recycling service to date as part of their focus on sustainability. The scheme was first introduced in 2018, with The Perfume Shop increasing the brand's largest roll out to date in 2023. The new and improved recycling units are placed across all of their 211 nationwide stores.
They inaugurated a revamped experiential store in Dublin, Ireland, introducing an array of modern upgrades which include a digital screen, personalised ribbon machines, and a recycling service that encourages eco-conscious shopping. This service allows customers to drop off used perfume bottles and receive a 15% discount on their next purchase.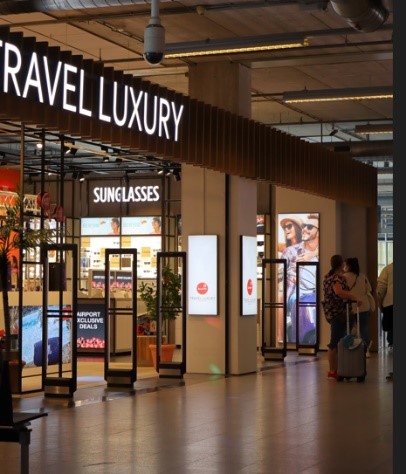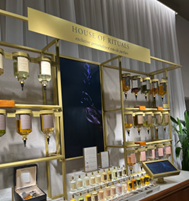 Charlotte Tilbury is growing from strength to strength, they have launched their new app, powered by AI deep learning to offer consumers personalised beauty solutions. The app features how-to make-up tutorials, red carpet look breakdowns and behind-the-scenes access, as well as personalised shade matching and skin analysis tools. Bella Hadid has joined Charlotte Tilbury as a new brand ambassador and creative partner. The supermodel will collaborate with the British beauty brand on new product innovations and front a series of campaigns as part of their tenth anniversary.
The brand opened their stand-alone store (outside London) in Liverpool, UK, last year. They are also looking to open a new store in Glasgow, Scotland.
As you build your brand, exporting is an important consideration, with numerous factors to weigh up in terms of how best to approach this – which markets, which channels, and what is the best entry strategy for your brand? No two brands are alike. If you are looking for support with your growth strategy, book in for a strategy workshop today, and let's discuss how we can support you in growing your brand across the marketplace.